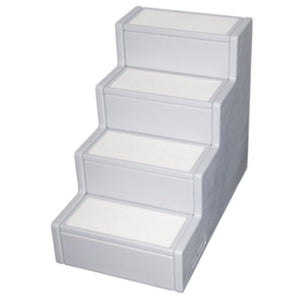 Pet Gear Dog Step IV, Essential Grey (Cap. 50lbs)
Pet Step 4 gives your pup an express elevator to the bed!
It's equipped with rubber grippers on the bottom, so the step remains stable and secure as they climb.
No tools or assembly required just snap it together and they'll be conquering those stairs in no time!

Model: PG9640EG
Color: Essential Grey
Size: 26"L x 14"W x 19.84"H
Capacity: 50 lbs
Product Weight: 7 lbs
Features:
Stair landing for small dogs, miniatures, and cats
Rubber grippers on bottom keep step secure and in place
Snaps together very easily (no tools required)
Step height 5"
Top step depth 6", 2nd step depth 5.75", 3rd step depth 5.75", 4th step depth 5.75"

Special note:
Please be as certain as possible when ordering your stairs. Unfortunately return costs are non-refundable since we cover our customers' restocking fee.
FREE SHIPPING on all orders $100 and over!