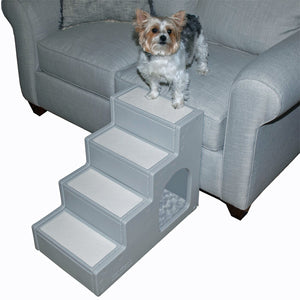 Pet Step IV with Pet Den
Say hello to Pet Step 4 with Pet Den - the stairs to glory for your pup!
With these fantastic pet steps, your furry family member can easily ascend to the heights of your bed or furniture while cozying up in their brand-new den!
Plus, the removable, washable plush pad ensures ultimate cuddling comfort. And no tools are required for assembly - just a few snaps and your pet will be living their best life in no time!
Best of all, rubber grippers on the bottom of the stairs ensure everything stays in place.
Model: PG9640EGDENU
Color: Essential Grey
Size: 26"L x 14"W x 19.84"H
Capacity: 50 lbs
Product Weight: 7 lbs
Features:
Stair landings for small dogs, miniatures, and cats
Pet den with removable washable plush pad
Rubber grippers on bottom keep step secure and in place
Snaps together very easily (no tools required)
Step height 5"
*Special note:
Please be as certain as possible when ordering your stairs. Unfortunately return costs are non-refundable since we cover our customers' restocking fee.
FREE SHIPPING on all orders $100 and over!