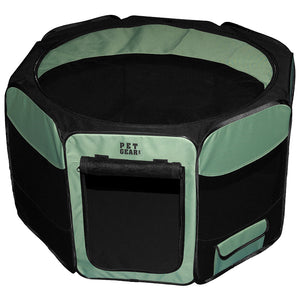 Pet Gear Octagon Dog Pen With Removable Top, 46", Sage
Regular price $ 94.13 $ 88.53
The Travel Lite Soft-Sided Pet Pen is the paw-fect place for your precious pup.
It's ventilation-friendly on all sides, allowing you to keep the top open or closed. The front door is your pup's paw-way to entrance and exit.
The 'pen' also packs a punch when it comes to portability - just pop it up and enjoy quick access to peeps and pooches!
Model: TL4146SGU
Color: Sage
Size: 46"L x 46"W x 28"H
Capacity: 90 lbs
Features:
Folds completely flat for easy storage and portability
Front-zip door can be left open for easy access or closed for containment
Removable top is partly vented and provides shade from the hot sun
Side storage pockets provide a place to keep things you might need to care for your dog handy
Interior floor is water-resistant
Made of 600 denier nylon
Travel-friendly
Lightweight and portable
FREE SHIPPING on all orders $100 and over!