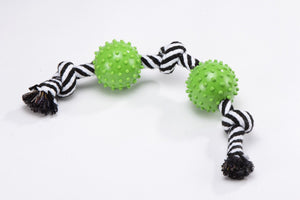 Durable Rope and Chew Dog Toy
Petique's Durable Rope and Chew Toy is the purr-fect plaything for pets with an itchy chompers, an appetite for fun, and affection for humans!
Not only does this fetching design add visual intrigue, but it also does double duty by cleaning your pet's pearly whites and giving their gums a massage. The green balls feel fantastic against their teeth, and it's a must-have for pups that love playing tug-o'-war! The benefits are limitless!
Features:
FUN: Mentally and Physically stimulates your pets when they play
BUILT TOUGH: Sturdy and tough hemp rope for chewing, playing and fetching activities
SAFETY: Made with no harmful chemicals
A variety of textures
CE Certified
Benefits:
For dogs, cats, or other animals that love to play with balls
Pets that love to chew
For dogs that love to play tug o war
Rope toys help massage your dog's gums
Rope toys help remove food particles that get stuck in their teeth, which reduces harmful bacteria or plaque build up in their teeth
Let us know in the reviews how the Durable Rope and Chew Pet Toy benefits you and your pets
Care Instructions:
Monitor your pets while they play because if they chew apart the toy into tiny pieces, it can create a choking hazard. This goes for any toy you give your pets.
Dimensions:
Product Weight: .30 LB
Product Size: 16.5"L X 2.5"W
FREE SHIPPING on all orders $100 and over!