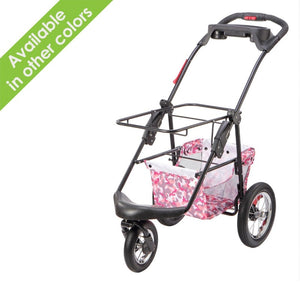 Petique 5-in-1 Dog Stroller FRAME ONLY, Pink Camo
Regular price $ 289.99 $ 246.49
Treat your furry friend to an awesome experience with the Petique 5-in-1 Dog Stroller Frame!
Separately sold for those with the 5-in-1 Dog Carrier, this stroller has all the bells and whistles: a cup holder tray for two drinks, a Large enough storage basket for up to 5LB goods, stainless steel bike tires for a super smooth ride, and a one-step dual stop brake for um-ruff-led safety.
Its lightweight design and easy foldability make it perfect for all of your on-the-go escapades. So, gather up your best bud and start your PAW-ty adventure! With the 5-in-1 Dog Stroller, your outdoor trip will be effortlessly enjoyable and worry-free.t!
Features 
One-handed folding mechanism for a smooth and easy fold
Easy one-step double rear brake for optimal safety
Stainless steel, high quality bike tires with shock absorption
Sturdy and lightweight
Large storage basket that holds up to 5 LB
Removable storage basket for easy cleaning
Folds in a standing, upright position
Convenient cup holder tray that holds up to two cups
 Benefits
Perfect for those who already have the 5-in-1 Dog Carrier and would love to use the stroller function to easily travel and have adventures with their pets where they can store their belongings in the storage basket and put their refreshing drinks in the cup holder tray
For humans who like the extra storage space and cup holder trays when they take their pets out
For humans who have a pet carrier that can fit in the middle frame that is 

 

19.1"L X 11.61"W X 1.38"H

Let us know in the reviews how the 5-in-1 Dog Stroller (FRAME ONLY) benefits you and your pets
Care Instructions 
Pat Dry
Wipe Clean
Basket is removable and machine washable (gentle machine wash in a laundry wash bag)
Dimensions 
Pet stroller dimensions: 16.54"L X 11.82"W X 35.83"H
Dimensions of the middle frame to hold Dog Carriers: 19.1"L X 11.61"W X 1.38"H
FREE SHIPPING on all orders $100 and over!