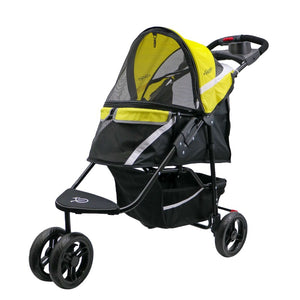 Petique Revolutionary Dog Stroller, Sunshine
Petique's Revolutionary Pet Stroller is designed with the comfort of your four-legged friends!
Don't worry if the terrain is less than ideal; built-in shock absorbers are there to help provide your pet with the safest, smoothest ride. And the mesh windows ensure air circulation while the storage compartments keep your doggo's supplies safe and secure.
Also included is a spacious undercarriage, a big back pocket, and a cup holder tray that holds two beverages! Traveling with your pup can truly be a breeze. You can even fold this stroller flat with one hand for maximum ease and storage!
Features
Tested to meet the same requirements as juvenile standards
Easy one-step double rear brake for optimal safety
Two back pockets for cell phone, keys, treats, etc.
Convenient and secure cup holder tray that holds up to two cups
Large storage basket holds up to 5 LB
Supports pets up to 55 LB
Patented pee pad insert to contain messes and make cleaning up easier
Front wheel has the options to lock or do a 360 degree swivel for a smooth navigation

Quality mesh windows that provide optimal air circulation throughout the stroller
Sold Separately:
Benefits:
Perfect for dogs, cats, and other animals who have just undergone surgery
Pets who are disabled 
Pets with old age
Pets who do not like to walk long distance
Great exercise for humans who want to take their pets on longer journeys
Puppies, kittens, and other new born animals that have not been vaccinated yet
Pets who get anxious with the outside world, yet love the breeze and the fresh air
Pets that need to be transferred from point A to point B (ex: the vet)
Finally take your cats, bunnies, and other animals out
Helps alleviate pet stress and anxiety
Humans who like the extra large storage basket and two cup holder trays
Let us know in the reviews how the Revolutionary Pet Stroller benefits you and your pets
Care Instructions
Dimensions
Assembled:

 

21.34"L x 37"W x 38"H
Seat:

 

24.7"L x 13"W x 21"H
Cup Holder Size:

 

2.8"L x 2.8"L x 2.5"H
Storage Tray:

 

6"L x 3.35"W x 1.7"H
Storage Basket:

 

17"L x 12.5"W x 7.25"H
Front Wheel:

 

8"
Rear Wheel:

 

8"
Supports Pets Up to:

 

55 LB
FREE SHIPPING on all orders $100 and over!